8 Ways to Make the Most of Lake Life
It's true: Life is better by the lake. Soak up the long summer days and make the most of lake life while you're here with these insider tips.
1. Sink Into Pure Relaxation
Between being used to jam-packed schedules and dealing with summer travel logistics, it can take a little time to unwind. Our trick for getting straight to full vacation mode? Book a sauna ritual at Willowbrook Spa right after you arrive. The hour spent in your private barrel sauna, alternating between restorative heat and refreshing outdoor showers, will get you out of the work mindset and ready to relax. Plus, you still have an uninterrupted view of the lake from inside the sauna. 
2. Get Out on the Water All Day Long
We've got a way to enjoy Canandaigua Lake morning, noon, and night — all you have to do is choose what you're interested in and reserve your spot. From coffee cruises to stand-up paddleboarding, kayaking to sunset pontoon rides around the lake, our activities team and concierge can set you up with a range of waterfront activities and effortless excursions.
3.  Plan the Perfect Pool Day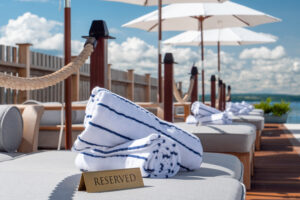 Actually, no planning required — simply reserve one of our poolside daybeds, and we'll do the rest. Available for half or full days, your private daybed comes stocked with water, sunscreen, lip balm, towels, and even a deck of cards to make lingering by the pool even more enjoyable.
4. (Have Someone Else) Entertain the Kids with Organized Activities
Complimentary for Lake House guests, kids can explore the grounds and do arts and crafts with a member of The Lake House team any Saturday or Sunday from 2-4 p.m. (That's conveniently enough time for a rejuvenating spa treatment…) Find a full list of activities for both kids and adults here.
5. Order Snacks at the Pool Bar or Sand Bar — Straight from Your Phone
Warm lazy days lend themselves to snacking when hunger strikes instead of having set meals. Order light bites and refreshing drinks from the Pool Bar while at the pool. Or opt for more substantial snacks and meals from Sand Bar to savor while sitting in our wooden Adirondack chairs situated across the lawns and by the lake. You won't regret nibbling on freshly shucked raw oysters or the four cheese crab dip with hot pretzels!
6. Read Out on Your Balcony
One of the best things about lake life is living life outside, whether you're into adventurous outdoor activities or not. Each room and suite at The Lake House boasts a sizable balcony or patio (you can fit your whole family out there), offering a welcome spot to get through a few more chapters or, if you must, catch up on emails.
7. Get Comfy
You'll notice a trend once stepping on the property: casual, yet cool, comfort is in. It's time to bring out your boat shoes and loungewear, sun dresses and sandals. Forgot to pack a sweatshirt for when the evening starts to cool down? Pick up a pullover right near the lobby for a cozy sweatshirt that doubles as a souvenir. While you're there, check out the other retro camp-inspired goods as a reminder of your time at The Lake House.
8. Make Time to Make S'mores in the Evening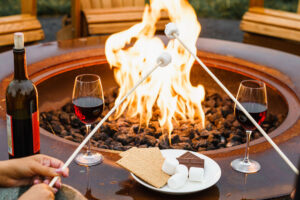 It's not truly summer until you've roasted a marshmallow and bitten into a s'more or two. Stop by the front desk in the evening to pick up complimentary s'more packs, then circle around one of the fire pits and get toasting.  
Ready to dive into lake life? Make the most of your stay by choosing the Summer at the Lake package during booking.
Book now