A Girls Weekend Getaway in the Finger Lakes
With calming waters, picturesque trails, local artisans, and more wineries, cideries, and breweries than you'll know what to do with, the Finger Lakes offers countless spots just waiting for your next girls weekend getaway.
Our pick? Canandaigua, of course. A weekend away at The Lake House with friends offers the perfect place to relax, reconnect, and indulge in all of the best girls weekend activities. It may sound cliché, but you can't deny that a leisurely weekend in a beautiful setting paired with good food, good wine, good friends (and a self-care treatment or two) doesn't sound good right now.
A straight shot up I-81 N from New York City (see how to get here), Canandaigua provides the best of what lake life has to offer. In this small upstate town, you'll find the right amount of relaxation with a little adventure thrown in, contemporary accommodations and cuisine with a touch of nostalgia.
Let the girls weekend in the Finger Lakes begin…
Friday Afternoon
First things first, see if you can sneak in an appointment at Willowbrook Spa to kick off the weekend in relaxed bliss, or plan ahead for some spa time Sunday morning and make your reservation now.
Friday Evening
Want to get out on the lake right away? Starting in mid-May, a nightly Sunset Cruise will launch right from The Lake House dock to cruise around Lake Canandaigua as the sun slowly sets.
Once back on dry land, head over to the lakeside Sand Bar for a casual bite of seafood specialities ranging from lobster rolls to fresh oysters. Not ready to turn it in yet? Stop off at the moody Library Bar for a nightcap before sinking into your plush bed (you'll love the super-soft linens)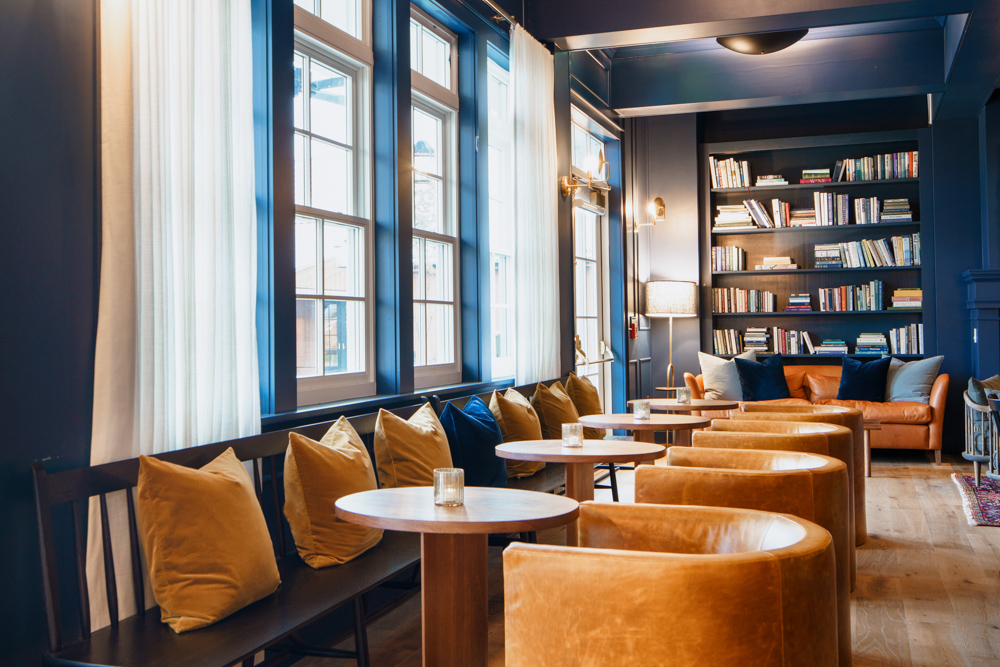 Saturday Morning
Rise and shine with a gentle 50-minute morning yoga session (just $10 for Lake House guests) at The Lake House's onsite yoga studio or picturesque barn to stretch out tight muscles and set the mood for a relaxing day ahead.
Didn't do the Sunset Cruise? Beginning at the end of May, stop by the Library Bar, then head down to the dock for a leisure two-hour Coffee Cruise around Lake Canandaigua. Sip your coffee, take in the fresh morning air, and soak up the sun as you kick off the weekend in style. Cruises begin at 9:00 a.m., and reservations are required.
Through the summer and early fall, the Canandaigua Farmers Market runs every Saturday morning from 9:00 a.m. to 12:00 p.m., less than a mile down the road from The Lake House in Canandaigua's charming downtown. Take a walk through town to go see what's in season.
Saturday Afternoon
In the afternoon, choose your own adventure — rent paddleboards to get back out on the lake, go for a dip in our lake-facing pool and hot tub, or simply find a spot to read for a moment of peace.
Ready to get out and explore instead? Ask the concierge to recommend a nearby hike to see more of the region's natural beauty, or start making your way around the lake to sample a bevy of locally produced beverages. As New York's leading wine region, the Finger Lakes is home to well over a hundred wineries throughout the area, including many wineries in Canandaigua, just a short drive away from The Lake House (don't worry, you can call an Uber or Lyft to get you safely to the next spot). For those who prefer hops over grapes, there are also a number of breweries in Canandaigua, many of which are within walking distance of The Lake House, making an afternoon of sipping and strolling that much more appealing.
Saturday Evening
After a full day and freshening up from the afternoon's activities, go for dinner at Rose Tavern, where rustic, seasonal fare takes center stage, and the restaurant's warm atmosphere, complete with a custom wood-fired hearth, invites you to linger longer. (Don't miss the farmstead cheeses and charcuterie plate prepared with local charcuterie, New York cheeses, and seasonal accompaniments or the truffle pasta rotolo with spinach, mascarpone, and wild mushroom.)
Sunday Morning
Sleep in, then enjoy your choice of elevated breakfast favorites, such as brioche French toast with maple créme anglaise, poached apple, and candied pecans or a fresh omelet with two farm eggs, chive, white cheddar, and garlic herb potatoes.
After breakfast, if you haven't been already, it's time for some treatments at Willowbrook Spa that blend nature-based practices and time-tested treatments with the latest health, beauty, and wellness innovations. Make sure to add on the Sauna Ritual to your services to spend time sweating it out in wooden barrel saunas while looking out over the spa's garden and Lake Canandaigua.
Sunday Afternoon
Stretching out your weekend as long as possible? Stick around The Lake House for Afternoon Tea & Apothecary from 2-3:30 p.m. for traditional afternoon tea paired with a hands-on oil blending class led by a member of the Spa Wellness Team. Afterward, it's time to head on to your next destination, but don't worry, The Lake House will be waiting for you to explore even more next time.
Ready to start planning your girls weekend getaway in the Finger Lakes? Book your stay in our conveniently designed Queen Queen rooms, featuring two custom-designed queen beds in spacious rooms with either lake or woods views, or each book your own private sanctuary. Opt for the Lakeside Bed & Breakfast package to make your stay at The Lake House even more indulgent.
Lakeside Bed & Breakfast
Start each morning with a vacay-worthy breakfast and coffee from Rose Tavern.
Deluxe Accommodations
Daily choice of any two (2) Lake Country Breakfasts in Rose Tavern
Joe Bean Roasters Coffee & Locally Sourced Assorted Juices
Book Now