Inside the Holistic Approach of the Willowbrook Spa
A full-body approach will leave you feeling rested and restored.
Like so many aspects of The Lake House, the Willowbrook Spa is a product of its environment, meant to highlight the natural beauty of the Finger Lakes and welcome locals and new visitors alike to experience the restorative powers of lake life. In practice, that means a dedicated spa garden featuring native plants, unique barrel saunas perched on the brook, and a combination of herbal and high-tech treatments. Read on for more details as Willowbrook Spa Director Victoria Lindsey, a massage therapist with years of expertise guiding luxury spas, shares the elements she's most excited about.

Deeply Restorative Barrel Saunas
"Right outside of the sunroom is our beautiful sunken spa garden, where you'll find our two barrel saunas. We also have an ADA-accessible sauna, it's not shaped like a barrel but it has a beautiful view of the brook and the garden, so the experience is truly open to everyone. They are open year-round, and offer an immersive experience with views of the lake and garden. The sauna experience comes with a soothing mask that we make in-house, a carafe of herbal water, a Born Bathing mist, and our oshibori cold towels, which are inspired by Native American and Scandinavian tradition. We offer warm steamed towels for cleansing your face, and a bowl of cold towels immersed in crushed ice so when you get really hot, you can drench yourself in the ice water and get the benefits of that contrast."

The Native Plant Spa Garden
"The garden plantings were inspired by all the local ingredients in our treatments, like yarrow, eucalyptus, lemongrass. It's grown-in nicely—in the summer there have been butterflies and little honeybees floating around. There's beautiful gardens throughout the property but the privacy means you can feel comfortable fully relaxing as part of your treatment."
The Lake House Massage Method
"I'm a massage therapist, so our signature massages are one of the things I'm most excited about. Each one has a beginning, middle, and end, starting with our consultation before the treatment. We spent a lot of time in training getting a specific process in place for the opening and closing rituals that evoked all the senses, from touch to smell, and we landed on 75 minutes since 60 minutes can sometimes feel not quite long enough. Based on the goal of their treatment guests can choose one of our custom Born Bathing massage oils, and at the end a coordinated tincture, which is included with every spa treatment. Every treatment is based on your needs, and there's room for each therapist to bring some of their own personality in as well. Collaboration is really important to me. "

Holistic and Effective Products
"We have an interesting mix of products in addition to our custom Born Bathing options. Knesko was created by a reiki master. One of their products is a sheet mask infused with gemstones, and the effects are proven. We love the Dr. Dennis Gross line for gentle peels that offer that tingly feeling but won't leave with downtime. We offer LED facial treatments, and sell them in our retail shop as well. Luzern is based out of Connecticut but inspired by Switzerland. I especially love their oxygen facial, and I'm also a huge fan of our organic line, Naturopathica."
Personal Consultations and Customizable Treatments
"We begin each treatment with a consultation, asking how often you get massages, doing a skin analysis for facials to identify needs and so forth. In general the future of spas is moving towards this holistic, full-body wellness that addresses not just how you look, but how you feel. After our massages, we follow up with home care recommendations. People look at a spa visit as a luxury moment, but it's important to extend that into your daily life. Burnout is real. You can't pour from an empty vessel."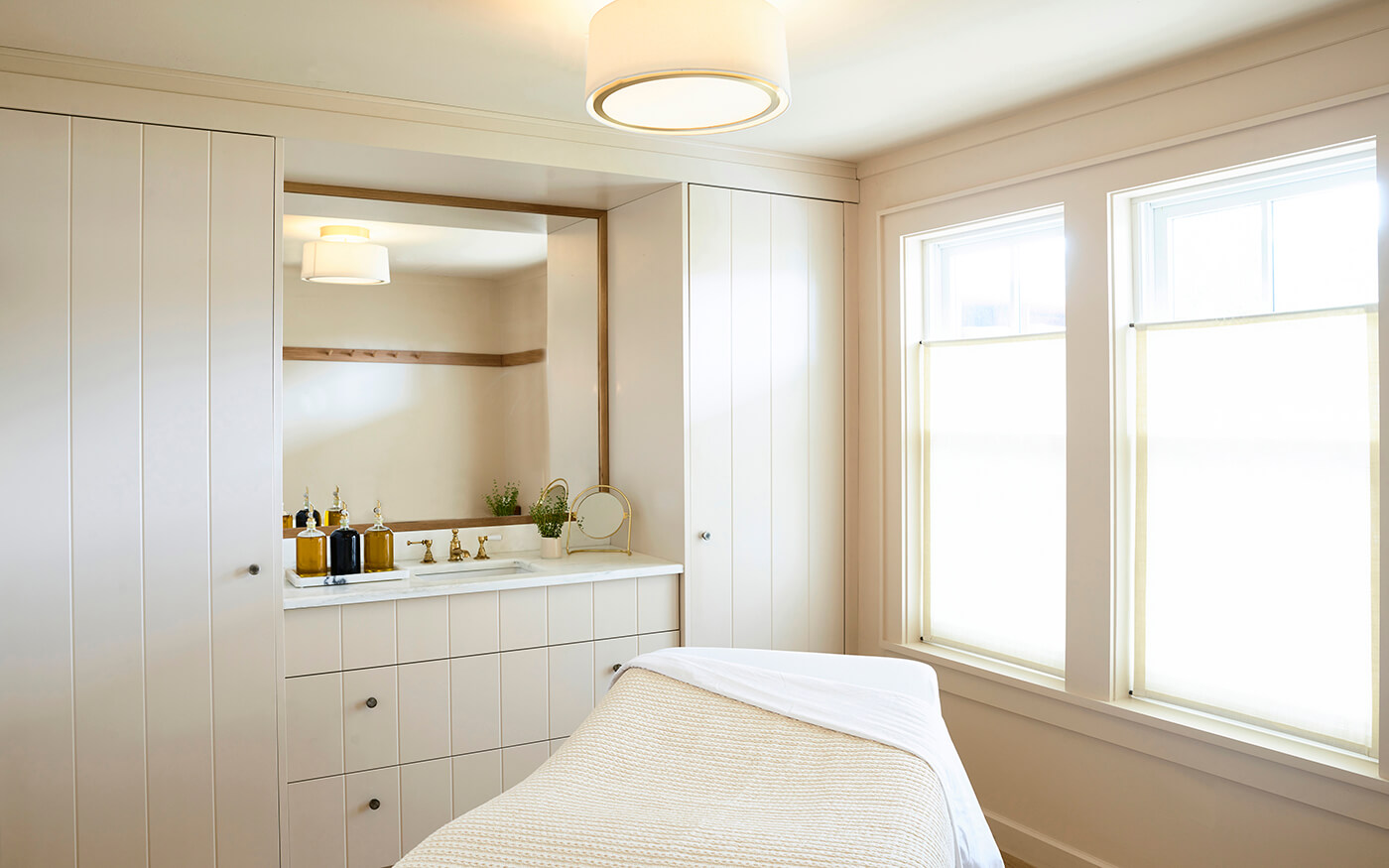 Honoring the History of the Finger Lakes and Inviting in the Community
"Canandaigua is actually an indigenous word, as are so many of the other names of towns and lakes in this region. It's important to pay homage and respect to that history. The Long Weekend and the Sands family are committed to showing that they value diversity and support equality, and having their support is invaluable. We're also planning ways to bring in the community with workshops and events, and we offer discounted rates for locals. It's not a silo—we get people traveling from major cities, and we're just as excited to welcome people from down the road."
Futuristic Offerings
"We have an amethyst bio mat, which very few people have heard of—It's an infrared mat with a heating element, and it's FDA-approved, which can be hard to get in the spa world. It's good for fatigue, stress, and digestive issues. We use that as an enhancement as part of our deep sleep treatment. We also partner with a local plastic surgeon to offer discounts or even a coordinate room at The Lake House for you to recover after a procedure. So many people are getting preventative maintenance, so why not bridge that gap?"
Learn More