What You Need to Know About Winter Weddings in the Finger Lakes
The Finger Lakes have long been a popular wedding destination in the summer, but for those looking for a memorable venue to exchange vows, a wintertime wedding is even more magical.
With powdery snow blanketing the landscape, a glistening icy lake, and plenty of picturesque, cozy corners, The Lake House in Canandaigua is perfectly poised not just with a stunning location but full-service wedding capabilities, including several venue options for the ceremony, reception, and guest events, plus a dedicated wedding planner to ensure your special day is stress-free. 
Jomana Joma, who goes by Jojo for short, fell in love with The Lake House and Canandaigua and now helps couples continue their love story by crafting custom wedding celebrations. Below she shares what couples should know about winter weddings in the Finger Lakes and how to turn their dream day into a reality.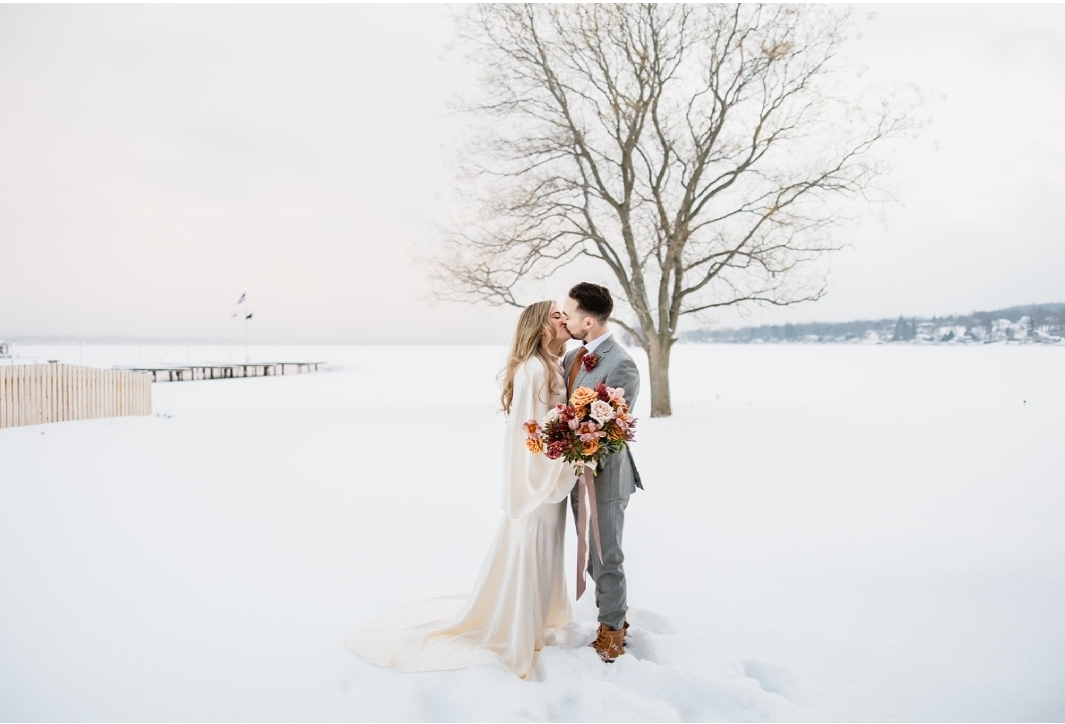 What's the number one thing you think couples should know about winter weddings in the Finger Lakes and at The Lake House in particular?
Weddings at The Lake House can be a whole weekend experience — not just a day — there's so much opportunity for events and gathering beyond the main ceremony and reception. It's a true destination that the couple, bridal party, and all guests can fully enjoy! 
For example, before the wedding, we can set up a spa day for the bridal party or private pre-wedding yoga. We can host a rehearsal dinner at Rose Tavern or a more casual initial reception as guests arrive at Sand Bar. In the winter, there's a picturesque ice skating rink set up overlooking the lake, and we have several enhancements couples can add on to their wedding package, like a hot chocolate bar, igloo photo booths, or brunch for everyone the next day. 
You can give your guests a memorable experience effortlessly and all in one place. We're here to make sure everything goes smoothly.
What are some trends you're seeing or things couples ask for?
Nearly everyone who has enquired about a winter wedding at The Lake House wants to know if we have Christmas trees available to set up — and the answer is yes! During the holidays we have a number of charming evergreen trees set up along the lakefront. 
We're also seeing most couples set up a brunch for everyone the morning after the wedding. It's a great way to spend more time together the next day, and everyone appreciates it.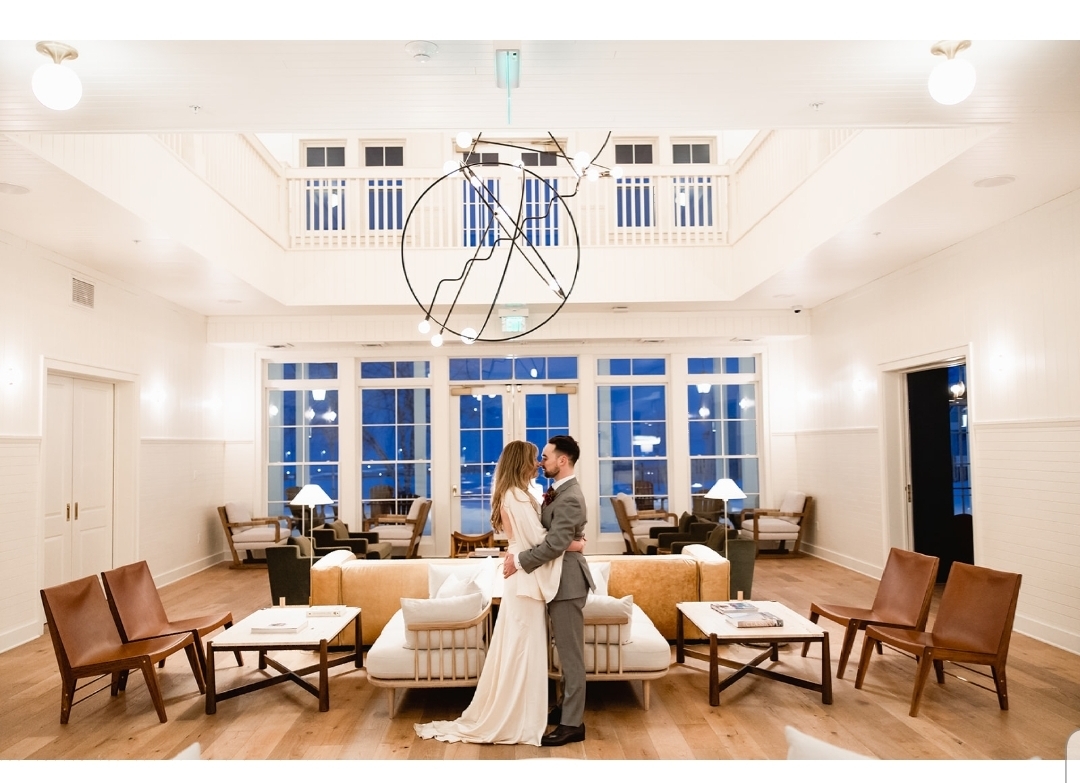 What are some experiences or elements couples will find only at The Lake House to make their wedding stand out?
One of our biggest draws is that we have so many different venues on site that wedding parties can take advantage of for a varied experience. This is especially true for winter weddings. Along with our primary event venue — a gorgeous wooden barn on the edge of the lake that can be completely transformed to fit your party and design aesthetic — we have two restaurants, two intimate bars, and several outdoor areas for couples to host different parts of their wedding weekend. Heating options inside and out, including portable heaters and fire pits, mean you can fully make the most of the space and enjoy some fresh air without being cold. 
In the winter, we also offer some special add-ons like themed snow globe igloos for guests to capture photos or setting up a coffee or hot chocolate bar for guests, complete with homemade marshmallows, whipped cream, and boozy options or a signature drink to spice up the wedding.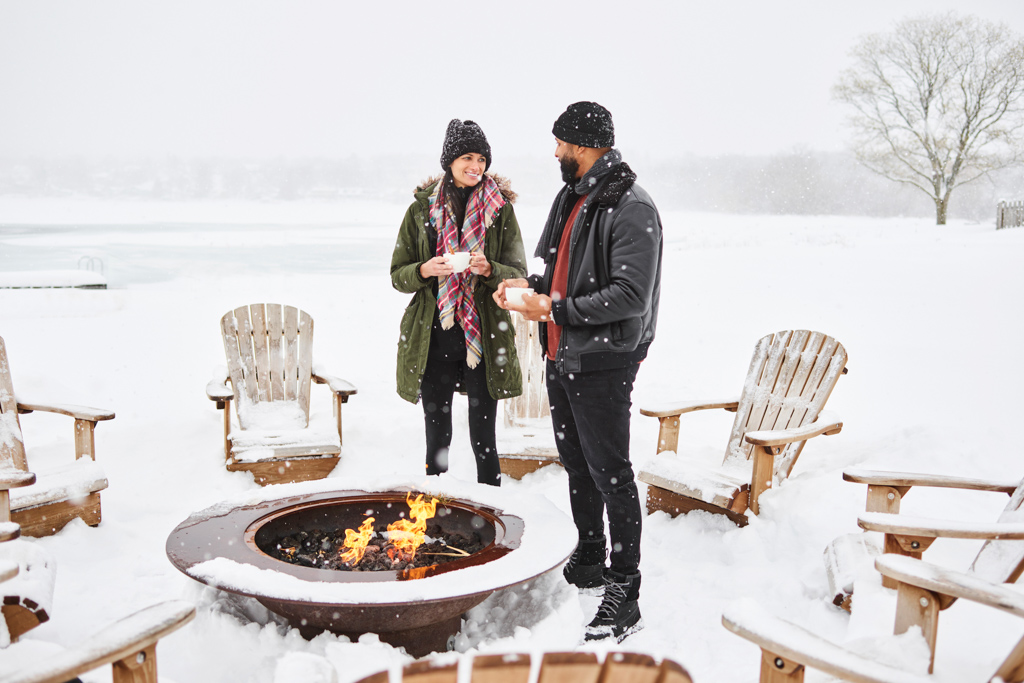 How can couples and guests make the most of their time in Canandaigua?
There's so much offered on the property that our couples and guests can take advantage of — like pre- or post-wedding spa treatments at Willowbrook Spa to relax or feel rejuvenated — but we can also help set up experiences in the surrounding area. For example, The Lake House is just a 20-minute drive from Bristol Mountain, which offers the best skiing in the Finger Lakes. The mountain's 1,200-foot rise is the highest vertical between the Adirondack Mountains and the Rocky Mountains and has countless slopes and trails, two high-speed quads, stunning summit views, and even a state-of-the-art snowmaking system that ensures perfect powder every time you go.
What considerations do couples need to be aware of when getting married in the Finger Lakes during the winter?
To plan for extra travel time. Weather here can be unpredictable in the winter, so for winter weddings in the Finger Lakes we recommend having the wedding party and guests plan to arrive a day or two before the actual celebration. This way early to make sure with flight delays and weather they can make it safe. In the winter, our wedding blocks are three nights for winter weddings 
How do couples learn more or get started working with you?
Just click through below to fill out our event contact form. I'll then be in touch with available package details and begin the conversation about what you're looking for. 
Get in touch