Local Insight: Meet Chris, General Manager
Our team members aren't only excellent at ensuring you have a memorable stay at The Lake House, they're also incredibly knowledgeable about Canandaigua and the surrounding region — and a great resource for getting the local scoop on what to do in the Finger Lakes.  
Sometimes a person's unique experience and background perfectly positions them to take on a specific challenge or role. This is certainly true of Chris Pulito, The Lake House's general manager. Chris' extensive experience in luxury hospitality, not to mention his love of upstate New York, varied interests, and easy rapport, make him a natural fit to lead The Lake House team in Canandaigua.
Since 2005, Chris has been based in New York, first working at the Four Seasons New York in Manhattan, then getting his first true taste of the Finger Lakes at Mirbeau Inn and Spa in Skaneateles. From there he went to the Adirondacks in Lake Placid at the Whiteface Lodge, then back to the Finger Lakes to open and run the AAA 4 DIamond del Lago Resort and Casino in between Cayuga and Seneca Lake. 
Suffice to say, the Finger Lakes — and specifically hospitality in the Finger Lakes — hold a special place in his heart.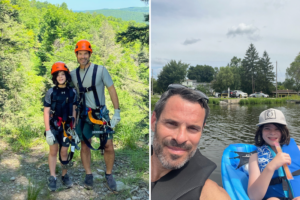 Here he shares some of his personal tips for making the most of Canandaigua with family and friends and, of course, your time at The Lake House.
What makes The Lake House stand out from other properties you've worked with?
First of all, The Lake House is situated on the northern tip of one of the most beautiful — and exclusive — lakes in the U.S. Canandaigua Lake is endlessly inspiring and simply a ton of fun. It just feels good to be here. The hotel's unique architecture, design, and decor also stand out. All of our rooms give guests plenty of space to spread out (the private balconies are also surprisingly large) and there are so many different parts of the property that offer their own ambience. Finally, there's so much to do, both at the hotel and in the surrounding area, year-round, which elevates our guests' stays and makes their time at The Lake House even more memorable.
What should guests staying at The Lake House for two nights absolutely must do?
Get on the water! There are countless ways to enjoy Canandaigua Lake in the summer, right from the hotel. We run coffee and sunset captained cruises, you can rent a kayak or paddleboard, or take out one of The Lake House boats on your own to explore the lake with family and friends…make sure to request a picnic basket from Rose Tavern to take with you.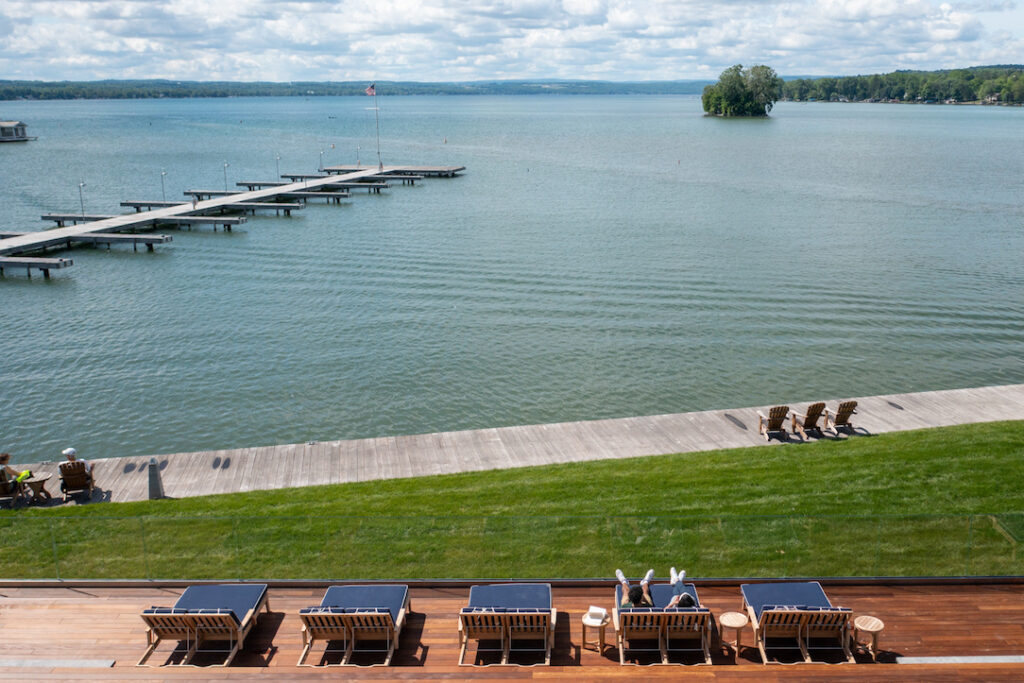 When friends and family come in from out of town, what do you do with them in the area?
I take them straight to Bristol Mountain for incredible skiing in the winter — it's the highest vertical between the Adirondack Mountains and the Rocky Mountains — or to experience zip lining at Bristol Mountain Aerial Adventures in the summer and fall. I'll also set up a casual brewery or winery tour. Wine tasting in the Finger Lakes has been well known for a while, but there are also a number of local craft breweries (see the ones right around The Lake House here), cideries, and distilleries in Canandaigua.
The Lake House has several excellent dining options that emphasize fresh, local produce? What do you order again and again?
I tend to go for the salted beet salad at Sand Bar for an appetizer or quick bite and Rose Tavern's ahi tuna poke bowl for lunch. Both are so fresh and flavorful, I never get tired of them.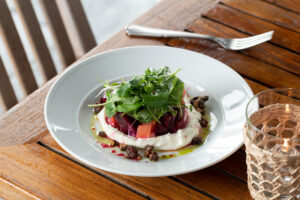 What's your perfect day in Canandaigua?
This is easy: A sunny morning on Canandaigua Lake kayaking or paddleboarding, and then spending a relaxing afternoon at The Lake House pool (preferably on one of our new pool daybeds) for lunch. I like to be active, so I would round out the day with a sunset hike or mountain bike ride as it cools down, before enjoying a nice bottle of wine and meal at Rose Tavern.
What's something people don't know about the property that you think they should?
Though Willowbrook Spa's Sauna Ritual became an instant hit, I don't think first-time guests realize quite how unique and incredible it is. The hour-long experience takes place in our private wooden barrel saunas that have views of the lake and is based on both local Indigenous and Scandinavian hot and cold therapy rituals that help draw out impurities while melting away mental and physical stress. While it's a truly healing experience for mind and body anytime, it's a particularly good way to kick off your stay and decompress from any travel stress as soon as you arrive.
Ready to explore Canandaigua with The Lake House as your base?
VIEW CURRENT PACKAGES