What to Do During a Guys Trip in the Finger Lakes
Boating, hiking, skiing, brewery-hopping — you can find it all in the Finger Lakes. Looking for guys' trip ideas from New York City (see how to Canandaigua from NYC here)? With The Lake House and Canandaigua as your base, you have a wealth of drinking and dining options, along with countless ways to get outside, enjoy the surrounding nature, and let off some steam with the guys. 
Let the guys' trip in the Finger Lakes begin…
Get out on Canandaigua Lake
Boating, kayaking, stand-up paddle boarding — Canandaigua Lake offers a wealth of ways to get out on the water spring, summer, and fall. Two-hour group cruises around Canandaigua Lake offer a scenic way to wind down, or you can rent your own speed boat or pontoon from The Lake House fleet to explore on your own. You can even try your hand at sailing with private sailing lessons from Canandaigua Sailing. Just contact guest experiences to learn more and book your time. Prefer to paddle? Just a short walk away from the hotel, Canandaigua Sail can get you outfitted with kayaks, SUP boards, windsurfing boards, and more. 
Hike in the Surrounding Hills and Mountains
Back on dry land, there are numerous hiking trails in the Finger Lakes, a short drive from The Lake House. Grimes Glen Park is just 30 minutes away and makes for a leisurely hike — just make sure to bring shoes that can get wet, as you'll likely spend much of the time walking in the creek to the waterfall! Stony Brook State Park, about an hour away, is also known for its impressive waterfall, complete with a stone staircase running up the side. If you're traveling with pets, there are also several dog-friendly trails and other outdoor activities in Canandaigua where your pup can tag along.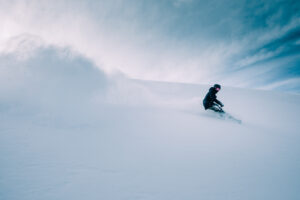 Go Skiing or Snowboarding at Bristol Mountain
While the summer is all about making the most of lake life, winter is all about skiing in Canandaigua. The Finger Lakes is home to a number of mountains and ski resorts suiting every level, and the best — Bristol Mountain — is just a 20-minute drive from The Lake House. 
With its 1,200-foot vertical rise, Bristol Mountain boasts the highest vertical between the Adirondack Mountains and the Rocky Mountains, with 138 acres of skiable terrain and the best possible snow conditions — thanks to a snowmaking system that covers all trails. If skiing isn't your thing, there are plenty of other wintertime activities in Canandaigua, ranging snowshoeing to ice fishing.  
Sample Beers on a Canandaigua Brewery Tour
If you're into beer, you've come to the right place — there are a variety of local breweries in Canandaigua, including seven within a very short driving or even walking distance of The Lake House. Some of our go-tos include Young Lion Brewing Company (right across the street from the hotel) and Frequentum, known for their IPAs, sours, and experimental brews. Want a guide (and a designated driver…)? Crush on Canandaigua Beer Tours offers daily four-hour brewery tours for groups of two people or more. 
Find Even More Local Sips on Canandaigua's Craft Beverage Trail
Canandaigua's craft beverage trail goes well beyond beer. Through the region, you'll find a ton of wineries, cideries, and distilleries to check out. While there are several wineries around Lake Canandaigua worth a stop — our top pick is Heron Hill Winery — there are more than 100 wineries sprinkled throughout the Finger Lakes. Want to stick around the hotel? We offer a variety of local beers, wines, whiskeys, and more right at Rose Tavern, Sand Bar, or the Library Bar. You can also join us for Whiskey and Wood Burning every Thursday to sample a flight of house-selected whiskeys while trying your hand at creating a wood-burned design.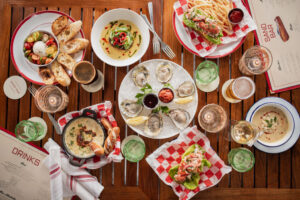 Drink and Dine by the Lake
Of course, a good guys' trip has to be accompanied by good food. While staying at The Lake House, you don't have to go far for a range of culinary experiences. For a casual lakefront meal, head to Sand Bar, right by the boat docks. A Canandaigua institution for decades, the boathouse restaurant serves up solid standbys like oysters, lobster rolls, and the classic Sand Bar Cheeseburger, all paired with snack-worthy sides, salads, and an extensive drinks selection.  
Rose Tavern is the spot to go for another standout dinner (or brunch or lunch). (Reservations required!) Think hearty gastropub feel with a focus on local ingredients and a seasonal rustic menu that makes the most of the restaurant's wood-fired hearth. Order several starters to share (the stracciatella with truffle honey, olive oil, and house-made focaccia or the braised beet salad with chili oil are both musts) before choosing your main. Of course, you'll want to try one of the signature cocktails or a glass of local or international wines.  

Ready to plan a guys' trip to the Finger Lakes? Check out our current offers and packages. 
View Offers