Local Insight: Meet Jessica, Manager of Activities and Guest Experiences
Our team members aren't only excellent at ensuring you have a memorable stay at The Lake House, they're also incredibly knowledgeable about Canandaigua and the surrounding region — and a great resource for getting the local scoop on what to do in the Finger Lakes.  
When it comes to making the most of the great outdoors, our manager of activities and guest experiences, Jessica Rhone, knows all the best places and activities. A Finger Lakes native, Jessica grew up on Seneca Lake, which sparked her interest in watersports and the outdoors.  
"I've been in love with the outdoors and being active since I was a little kid," she says. "My parents always joked that I never took a break and just kept going."
Now, Jessica brings that lifelong love of the Finger Lakes to The Lake House, designing our ever-changing activities calendar and often helping personally guide guests in their own adventures. 

Here she shares what makes the region so special and how you can get outside year-round.
How long have you been at The Lake House?
I have been in my current role since March 2022. I was previously a server at Sand Bar and Rose Tavern, and while I was serving, I knew that I wanted to do something more on property. My current role opened up, and I am so happy that I have been given the chance to show our guests all of the adventures I love to do.
When friends and family come in from out of town, what do you do with them in the area?
Naturally, the first place I take friends and family is Canandaigua Lake. Being out on the water is one of my favorite things — I could spend all day cruising around listening to music, wakeboarding, wake surfing, and simply floating in the sun. During the winter, I head to Bristol Mountain to snowboard several days a week. I usually get a season Twilight Pass that allows me to go any day from 4-9 p.m. (which works great with my work schedule).
What should guests staying at The Lake House for two nights absolutely must do?
There is so much that I suggest people do while at The Lake House, but it changes with the season.
In the winter, going to Bristol Mountain is a must — whether you ski or not, you can spend the whole day at the mountain. (Plus, it's just a 20-minute drive from The Lake House, so it's really easy to get to.) Along with fantastic skiing and snowboarding, there are also plenty of restaurants, bars, and fire pits to enjoy. I'd also suggest walking down Main Street to visit the shops here in town — they're extra cute after it's snowed.
In the summer, get out on the water! Between boat rentals from the hotel, private boat charters through Seager Marine, kayak/SUP rentals from Canandaigua Sailboard, and gear from Neon Wave — we have incredible local partners and outdoor outfitters — there is something for everyone. As someone who has lived in the Finger Lakes her whole life, I still get excited when I have the chance to get out on Canandaigua Lake. After a day on the lake, there are cool local restaurants and breweries to grab a bite to eat. My personal favorites are Frequentem Brewing Co. and The Green Front.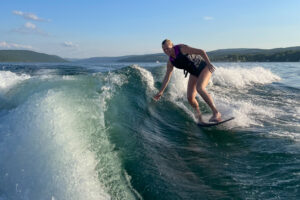 What's your perfect day in Canandaigua?
My typical day off (especially during the summer) starts with a hike in the morning and a concert at night at the CMAC amphitheater that's just down the road from the hotel. There are so many cool areas within a short drive of The Lake House. My favorite hiking spot is Conklin Gully, which is about 30 minutes away in Naples, NY. You can hike around the rim of the gorge or be a little more adventurous and hike the three waterfalls in the gorge.
My friends and I are huge CMAC country concert fans (there are many more acts than just country, though). You can find me on the lawn enjoying my favorite artists like Keith Urban, Kenny Chesney, and more!
What is something people don't know about the Finger Lakes that you think they should?
While it's known for being pretty outdoorsy, there really is something for everyone in the Finger Lakes. You can travel 30 minutes to find the best hiking spot, but then 30 minutes in the opposite direction brings you to the city of Rochester and surrounding towns which offer more urban activities.
FIND EVEN MORE ACTIVITIES IN THE FINGER LAKES